Funky Time Live Game at a Glance
Before we delve into the intricacies of Funky Time, let's provide you with an overview of what makes this game so unique and exciting. Here's a snapshot of what you can expect: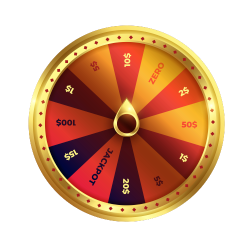 The DigiWheel
At the heart of Funky Time is a state-of-the-art DigiWheel, a visually stunning spinning wheel containing 64 segments. Unlike traditional wheels, the DigiWheel utilizes LED panels to display the layout and multipliers, creating a captivating and dynamic gaming experience. With more segments than ever before, Funky Time casino game offers an abundance of multipliers and the potential for significant payouts.
Segment Types
The segments on the DigiWheel can be divided into three categories:
Number One Segments: These segments represent instant win opportunities and offer a payout of 1:1.
Letter Segments: There are 24 letter segments arranged in blocks spelling out "FUNK," "PLAY," and "TIME." These segments provide a chance to win with a generous payout of 25:1.
Bonus Round Segments: Funky Time offers four thrilling bonus rounds: BAR, STAYIN' ALIVE, DISCO, and VIP DISCO. Landing on one of these segments grants you access to the corresponding bonus round, where you can win enticing multiplier rewards.

Betting and Payouts
Funky Time Live accommodates both low-stakes and high-stakes players. The game allows you to place bets on various segments, including Number One, Letter Segments, and Bonus Round Segments. The maximum payout for the entire game is $500,000, with the maximum multipliers in the bonus rounds reaching a staggering 10,000x. Funky Time offers a favourable RTP (Return to Player) of 95.99%, ensuring a fair and thrilling gaming experience.
How to Play Funky Time Live
To start your funky adventure, let's explore the gameplay mechanics and rules of Funky Time. Here's a step-by-step guide on how to play the game:
Objective
Your objective in Funky Time Live is to place bets on segments of the DigiWheel and hope that the wheel stops on one of your chosen segments. The outcome of the spin determines whether you win an instant payout or gain access to one of the exciting bonus rounds.
Placing Bets
During the 20-second betting window, you have the opportunity to place bets on specific segments of the DigiWheel. Evolution Gaming has thoughtfully provided quick bet options that allow you to place multiple bets with a single click. You can bet on Number One segments, Letter Segments (FUNK, PLAY, TIME), and the Bonus Round Segments (BAR, STAYIN' ALIVE, DISCO, VIP DISCO).
DigiWheel Spin and Funky Time Results
Once the betting period concludes, the game presenter spins the DigiWheel, and the excitement builds. It's important to note two crucial aspects of the wheel spin:
Wheel Direction: The wheel direction alternates between clockwise and counter-clockwise with each spin, adding an element of anticipation and unpredictability to the game.
Mystery Multipliers: Mystery Multipliers: As the wheel spins, random multipliers ranging from 2x to 50x can land on various segments. These multipliers amplify the payouts of the corresponding segments, including both the instant win and bonus rounds. The presence of these mystery multipliers adds an exhilarating element to the gameplay, enhancing the potential for substantial rewards.
Instant Win Segments
The outcome of the wheel spin will be either an instant payout or a bonus round section. Congratulations if the wheel stops on an immediate win segment, for example a Number One or Letter Segment you bet on! You get the corresponding reward based on the odds of the segment.
Funky Time Bonus Round Segments
When one of the four additional round segments – BAR, STAYIN' ALIVE, DISCO, or VIP DISCO – is hit by the wheel and you have an active wager on that segment, you are automatically entered into that particular bonus round. The bonus rounds feature interesting gaming elements and the opportunity to win multipliers on your initial stake.
Let's dive into each of the Funky Time bonus rounds:
BAR
The BAR bonus round takes place at a lively bar, where a Robot Bar Tender stands behind three mocktail glasses. You must choose one mocktail from the Blue, Yellow, and Purple glasses. The bartender proceeds to pour the drinks, assigning random multipliers (ranging from 2x to 20x) to each glass. As the mocktails are poured, a slot reel spins behind the bartender, revealing an additional multiplier that is randomly assigned to one of the glasses. The final multiplier for your chosen glass will be the product of these two multipliers. The BAR Bonus Round offers a multitude of multipliers, creating an electrifying atmosphere as you anticipate your potential winnings.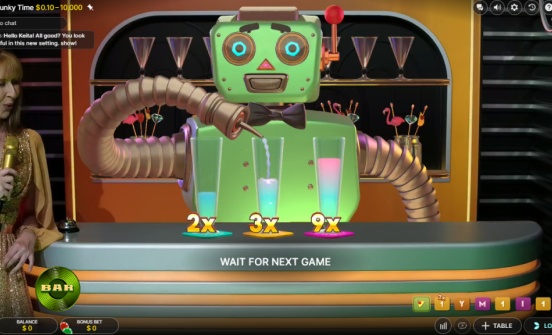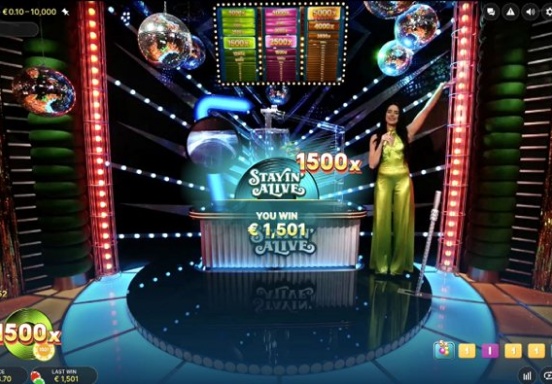 STAYIN' ALIVE
Named after the iconic song by the Bee Gees, the STAYIN' ALIVE round challenges you to climb a ladder filled with increasingly lucrative multipliers. The higher you climb, the greater the multiplier rewards, with the pinnacle reaching an astounding 10,000x. At the start of the bonus round, you must choose one of the three ladders: Green, Purple, or Orange. Each ladder consists of twenty levels, with each level offering a unique multiplier. A bingo ball drawing-style machine containing 90 coloured balls determines your progress up the ladder. Black STOP Balls deduct life from all players on all ladders, while 1 Step Balls advance the corresponding ladder by one level, and 2 Step Balls propel the ladder forward by two levels. Your final payout will be based on the multiplier of the last level reached on your chosen ladder.
DISCO and VIP DISCO
The DISCO and VIP DISCO rounds offer thrilling gameplay driven by a Random Number Generator (RNG). These rounds provide an opportunity to win enticing multipliers without requiring active player participation. You will observe the games unfold before your eyes, hoping for Lady Luck to deliver a significant multiplier reward.

Playing Funky Time Game on Different Devices
Funky Time online offers the flexibility to be enjoyed on both desktop and mobile devices. Whether you prefer the convenience of playing on your computer or the freedom of gaming on the go, Funky Time ensures a seamless experience across platforms.

Desktop Experience
When playing Funky Time on your desktop, you'll find that the interface is user-friendly and optimized for larger screens. Placing bets is a breeze – simply drag the chips to the desired options you wish to bet on. The value of the chips can be easily adjusted, giving you complete control over your wager amount. To repeat your previous bet, a convenient round arrow button is available. Additionally, there is a handy option to bet on all letters at once, indicated by a chip followed by "= Bet on 12 letters." If you're feeling adventurous and want to maximize your chances, you can also bet on all four bonus games using the "Bet on 4 bonuses" button.

Mobile Experience
Funky Time mobile ensures that players on mobile devices have an equally enjoyable gaming experience. The game is optimized for mobile screens, providing smooth gameplay and intuitive controls. Betting on your favourite options is as simple as tapping and selecting the desired chip value. The mobile interface maintains the vibrant visuals and engaging studio environment, allowing you to immerse yourself fully in the 1970s-themed atmosphere. Whether you're waiting for a train or relaxing at home, Funky Time on mobile provides the excitement of a live game show at your fingertips.
Strategies to Maximize Your Funky Time Experience
While it is a game of chance, employing strategic betting techniques can enhance your Funky Time odds of success. Here's a recommended strategy that balances risk and potential rewards:
Single Bet on Word Letters: Consider placing a single bet on all the letters of a particular word. This Funky Time strategy entails four bets in total, allowing you to cover multiple segments on the Funky Time wheel.
Bet on Bonus Games: Allocate a single bet to each of the bonus games. By doing so, you increase your chances of triggering these exciting features and potentially winning substantial prizes.
Double Bet on BAR: Place a double bet on the BAR segment. This segment frequently appears on the wheel, and by doubling your bet, you increase the potential payout if the wheel lands on it.
By combining these strategic elements, you can enjoy extended gameplay, optimize your bankroll, and potentially secure better Funky Time odds during game sessions.
Our Verdict
To conclude our Funky Time review, this creation by Evolutions is an exciting live game show that immerses players in a groovy 1970s-themed experience. With its captivating visuals, engaging bonus games, and strategic betting options, Funky Time offers an exhilarating journey for both desktop and mobile players.
Follow the suggested strategies, interact with fellow players and the enthusiastic host, and enjoy the Disco bonus game's dance-filled excitement. By balancing entertainment and responsible gambling, you can maximize your chances of success while savouring the unique atmosphere.
Get ready to spin the DigiWheel, collect multipliers, and revel in the thrilling world of Funky Time Live. Let the funky vibes guide you to a memorable gaming adventure. Good luck, and enjoy the groovy experience of the Funky Time live game.
FAQ
Q: Can I play Funky Time Live on both desktop and mobile devices?
A: Absolutely! Evolution has designed Funky Time to be accessible and enjoyable across various platforms. Whether you prefer playing on your desktop computer or want to indulge in the game while on the go using your mobile device, Funky Time is available for your convenience.
Q: How do I communicate with other players and the host during the game?
A: Funky Time embraces the interactive nature of live casino games. You can engage with fellow players and the charismatic host via the live chat feature. Feel free to share your excitement, discuss strategies, or simply enjoy the vibrant atmosphere together.
Q: Are there any specific tips for beginners?
A: For beginners, it's advisable to start with smaller bets until you become more familiar with the gameplay and features of Funky Time Live. Additionally, take advantage of the free play or demo mode, if available, to practice and gain confidence before wagering real money.
Q: Can I expect fair gameplay in Funky Time Live?
A: Evolution is renowned for its commitment to providing fair and transparent gaming experiences. Funky Time game utilizes advanced technologies and undergoes rigorous testing to ensure the integrity of the game. You can enjoy peace of mind knowing that the Funky Time results are determined by random chance and adhere to industry standards.